TealMemBrain Plus
1.11
Stop crashes and monitor your memory use with TealMemBrain, the application stack stabilizer. TealMemBrain boosts your stack space on OS3 and OS4 handhelds, eliminating the major c
Last update
20 Mar. 2006
Licence
Free to try |

$15.95
OS Support
Mobile
Downloads
Total: 246 | Last week: 0
Ranking
#3 in Development Tools
Publisher
Tealpoint Software
TealMemBrain Plus Publisher's Description
Memory Manager and Crash Stopper: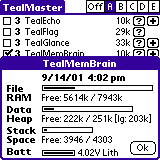 Manage your Memory
Stop crashes and monitor your memory use with TealMemBrain, the application stack stabilizer. TealMemBrain boosts your stack space on OS3 and OS4 handhelds, eliminating the major cause of system instability.
A pop-up information window provides snapshot of the current memory state of the device from within any program, helping to show any potential shortages or conflicts. A special stack-boost feature optionally increases the amount of stack memory allocated to applications, making the device much more stable when running drivers, hacks, or other system extensions. TealMemBrain runs on handhelds running PalmOS 4 or earlier.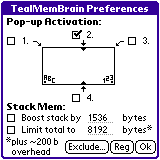 Feature Highlights

File memory display
Data heap display
Stack space display
Battery level display
Battery type display
Time display
Date display
Stack mem booster
Stack mem limit
App exclude list


BONUS: A special for Handango, this enhanced bundle includes TealPoint VersionMaster for PalmOS. A $10 value, VersionMaster effortlessly tracks all your TealPoint applications, finding, downloading and installing new updates, when available.

A leading provider of software solutions for handheld devices, TealPoint Software currently offers 26+ productivity products for the PalmOS platform. Selections include TealDoc, the superior document reader, TealMovie, the award-winning multimedia player, TealAuto, the complete vehicle service and expense log, TealPhone, the replacement address book, and TealLock the definitive PalmOS security solution.


Take advantage of TealPoint's Free 30-Day Trial Policy on all products.
Look for Similar Items by Category
Feedback